Post by Deleted on May 21, 2021 14:31:45 GMT -5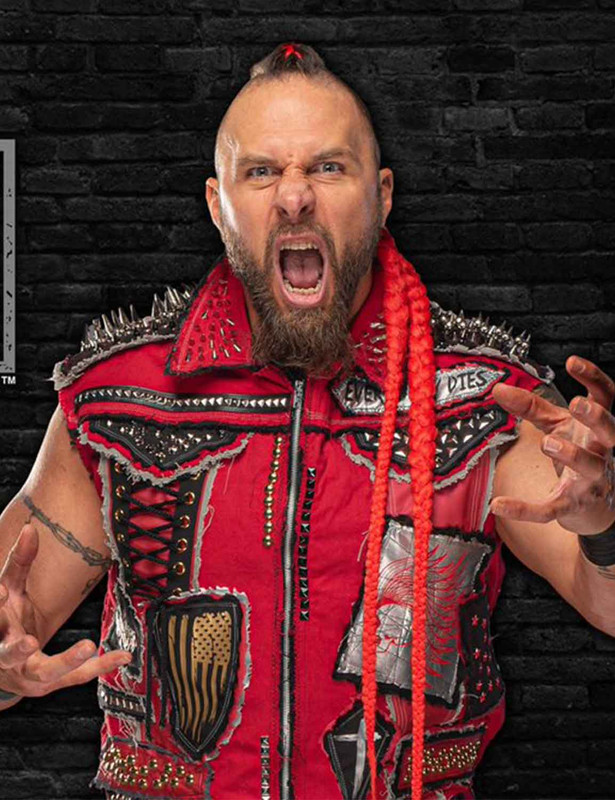 characterINFORMATION
Character Name:
Jake C. Stamper
Character Ring Name:
Apocalypse
Nickname(s):
APOC
The Epitome of Brutality
The Wicked One
The Manifestation of Devastation
Motto:
"I now give you everlasting Kingdom, beautiful brutality."
Twitter:
The Apocalypse Factory
@theapocalypsef1
Hometown:
Death Valley
Height:
6 ft 9 in (2.06 m)
Weight:
260 lb (120kg)
Alignment:
Wicked (His intention of the brutal dismantling of opponents make HIM a perfect Heel—APOC is a guy who will take no mercy when it comes to action in the ring.)
Wrestling Style:
Apocalypse always leaves it all in the ring, striving to be one of the most barbaric and hardcore brawlers in professional wrestling (also a skilled mat technician when necessary), HE wants to be a dominant force of pure destruction bringing suffering and pain to as many people as HE can.
Apocalypse is nicknamed "The Epitome of Brutality", "The Wicked One", and "The Manifestation of Devastation", for HE is a beast with no humane qualities or physical limitations.
HE is especially dangerous in hardcore match-ups. HE is knowledgeable in the bloody art of barbed wire, broken glass, chairs, steel chain, tacks, and every conceivable form of weaponry available.
Bio:
Apocalypse has shed his mask and his past while embracing the Demon within (the DID). At over 2 meters tall, "The Manifeststion of Devastation" Apocalypse can prove to be an unsettling and brutal opponent in the ring. A madman. HE tries to intimidate his opponents and plays a lot of mind games.
Tortured and angry, Apocalypse, is a mentally deranged schizophrenic who, flashes goofy smiles, will constantly squeal, rock like a baby (even throughout his matches), enjoys pain, physically abuses himself (such as by pulling out his hair), with tendencies toward violence.
HE will even use his rogue attitude to take his aggression and anger out on other people, such as backstage interviewers, timekeepers and commentators etc.
Past Bio:
Apocalypse is a distinct and relatively enduring personality of Jake Stamper. From 2005 till 2009, Stamper was placed into Withlacoochie Mental Facility, located in northern Florida. He was diagnosed with the mental disorder known as Dissociative identity disorder (DID), which includes "the presence of two or more distinct identities or personality states" that alternate control of the individual's behavior, accompanied by the inability to recall personal information beyond what is expected through normal forgetfulness.
The DID is a reaction to trauma endured when his Step-father killed his Mother. He doesn't remember his real Father; he was told by his Mother that he was physically abused as a child before his Father disappeared. When Jake Stamper was at his Step-father's trial, he attacked him in court and managed to bite his Step-father's ear off before being detained and was sent to prison, where his memory disruption occurred and started to develop his split personality Apocalypse.
Jake Stamper was always in fights in prison as a result of DID, and even had his two front teeth knocked out by guards and bit more inmates ears off leading to him spending most of his time in solitary confinement "in the hole", which made Stamper unstable, in turn, making the Apocalypse personality stronger, and then eventually he become too much for the justice system to handle and he was placed into Withlacoochie.
During his time in the Facility (which later proved to be crooked from the bottom up), Jake ended up meeting and striking up a friendship with a fellow patient named Stephan Johnson, who was wrestling as "Superstar" Ace Slaughter, in orientation. The two were in the same section, headed by Dr. Jones and Dr. Allen, for people with split personalities that stemmed from personal trauma. Jake was given treatment and medications as well as Stephan, which was supposed to eliminate the split personalities. However, the medications did the opposite effects, Jake would later go on to become Apocalypse and Stephan became Oblivion.
In the meantime, Jake and Stephan talked continuously. There were times when the "help" had to separate them, because The Facility thought they were being too "chummy". That made them very angry. They always talked about what they would do if they got out. Stephan suggested that when he got out he was going back into wrestling. Jake said "I always like wrestling." Stephan says-"Well, whenever you get out look for me at WCF". And so they made a promise to each other that they would try to find each other. Well, Jake's release time ended being later than Stephan's as Stephan eventually got out, but never took his meds. Slaughter changed into Oblivion and IT never meant to look for Jake.
Losing Stephan, Jake's only friend, sent Jake Stamper over the edge to where his dosage was upped as he lost more touch with reality. It was during this time his split personality, Apocalypse began to take hold as he started wearing masks and began talking of demons and the end of the world. Years passed and upon the Facility closing, Jake was cast out back into the real world, he managed to find work at a Convention Center in Knoxville as a janitor/event-set up. The DID and added trauma of losing Stephan, led to Jake forgetting about Stephan until fate would have it, WCF attended a comic convention and Jake had seen Stephan (as Oblivion, who didn't recognize him) while working the floor, which reminded Jake of their time in the Facility, there plans of going into wrestling together, and ended up signing a contract with WCF on a mission to see why Stephan didn't look for him as promised plus get his long-lost friend back.
characterLOOKS
Pic Base (optional! If no Pic Base, you can describe what he/she looks like here!)
Lance Archer
Appearance
Hair Color/Style:
Long red dreads braided into a ponytail whip.
Eyes:
Shit brown
Facial Hair:
Beard
Physique:
Tall big boned and muscle even toned Caucasian male
Tattoos:
#1 Left Arm Full Sleeve: Four Horsemen of the Apocalypse
#2 Right Arm: Grim Reaper with Memento Mori (Latin for "Remember You Must Die) written underneath (Black Ink, Script Style Font)
#3 Neck: The Omega
4: Back: Angel of Woe, covering whole of back.
Attire:
In ring:
Red wristband tape. Black leather pants with red trim running down left leg and an A from name as a Anarchy logo printed on chest in black and red trim on right leg. Complete with black wrestling boots.
Entrance:
In ring attire with mohawk biker helmet and customized two-toned leather jacker (red on outside, leather on inside with the same Anarchy logo from shirt, in brown, printed on the back of jacket. Also sports a T-Shirt of his favorite Heavy Metal band of the week.
Backstage:
Same as Entrance attire.
entranceINFORMATION
Theme song:
"My Apocalypse" by Metallica
Entrance:
Note: Sometimes plays mind games and comes from underneath the ring with the aid of darkness to get one over his opponent.
The house lights dim, and the arena fades to darkness, accompanied by red and black mood lighting. The cameras pan around the arena showing the sold out crowd waiting in anticipation. Soon a distinct sound of multiple horses galloping is heard. With this the cameras pan back to the stage as we see entrance graphics employing visuals of the Four Horsemen of the Apocalypse. The horsemen utter the words "Apocalypse Now", when suddenly two columns of fire shoot from the sides of the stage as "My Apocalypse" by Metallica begins to play.
'Claustrophobic
Crawl out of this skin
Hard explosive
Reaching for that pin'
The flames on the stage continue to burn and an explosion is heard as a blast of smoke was set off at the back of the stage. Fog and dry ice begin to envelope the stage as the music continues to play.
'Feel thy name extermination
Desecrating, Hail of Fire'
Adilene Floyd: From Death Valley! Weighing in at two-hundred and sixty pounds...... A-A-A-APOC-A-LY-Y-Y-P-P-S-S-S-EE-E!!
Red strobe lights begin to flash throughout the arena as Apocalypse enters by a lift in the stage between the flames, and standing in the midst of the smoke. As the strobe lights reflect off the crowd, we see the faces of the mixed reaction by the crowd, some cheering, and some booing. APOC stands there staring over the crowd for a few moments and the fire, smoke, mood and strobe lights die down.
'So we cross that line
Into the grips
Total eclipse
Suffer unto my apocalypse!'
The house lights come on and Apocalypse then starts to head down the ramp, with a slow intimidating walk, as the fans marvel at his size. Some are brave enough to reach their hands out to touch him. Before he nears the end of the ramp the Wicked One stops and makes his way over to a young child. He stares at the child before him; suddenly he pulls out some of his hair, squeals, and hands over his hair to the child before flashing a goofy smile. He then reaches the end of the ramp, steps up onto the ring apron and over the rope with ease.
Once in the ring he makes his way over to a corner, sits down, and starts rocking like a baby as "My Apocalypse" by Metallica fades out.
characterMOVESET
Favorite Moves (at least 15 moves):
Strikes:
Back elbow, Big boot, Dropkick, Headbutt, Heart punch, Knee lift to the opponent's midsection, Multiple forearm clubs to a cornered opponent, Repeated knee lifts and back elbows to a cornered opponent, Throat thrust
Standing Moves (Front):
Airplane spin, Catapult, Chokeslam, Delayed vertical suplex, Fallaway slam, Military press dropped into a flapjack, Overhead belly-to-belly suplex, Sidewalk slam, Sitout powerbomb, Spinebuster, Two-handed choke lift, Vertical suplex
Standing Moves (Behind):
Electric chair facebuster, Full Nelson slam, Pumphandle slam, Raking the opponent's back, Sitout full nelson slam
Aerial:
Over the top rope suicide dive, Moonsault
Grounded:
Body splash, Delayed walk over chest, Elbow drop, Leg drop
Running:
Big boot, Body avalanche, Claw STO, Corner hip attack, DDT to a bent over opponent, Front dropkick to a seated opponent; usually preceded by a scoop slam or a snapmare, Leaping flying clothesline, Running leg drop, sometimes to an apron-hung opponent
Submission:
Bearhug, Dragon sleeper, Fujiwara armbar, Iron Claw Hold, Triangle choke
Turnbuckle:
Corner foot choke, Corner slingshot splash, Facewash, Multiple shoulder thrusts, Snake eyes, followed by a running big boot, Superplex
Trademark move and description:
Strikes:
Comatose (Superkick)
Second Coming (Discus clothesline)
Standing Moves (Front):
APOC Driver (Gutwrench powerbomb)
Asylum Slam (Spinning side slam)
Death Spike (Package piledriver)
Eternal Rest (Reverse STO)
Permanent Sleep (Lifting Reverse STO)
Medication Time (Ura-nage)
Revelations (Sheer-drop release powerbomb)
Standing Moves (Behind):
Insanity Plea (Sitout backbreaker rack drop)
StraitJacket-Plex (Half nelson choke suplex)
Combination Moves:
6 Feet Under (Pumphandle-lift into kneeling reverse piledriver)
Painkiller (Back suplex lift into a ura-nage)
Running:
Brute Kick (Running bicycle kick, sometimes as a counter to an oncoming or diving opponent)
Wicked Attack (Running Sitout powerbomb)
Submission:
Devil's Bridge (Modified gogoplata)
The StraitJacket (Half nelson choke with bodyscissors)
Total Depravity (Mandible claw)
Finisher and description:
End Times (Snap inverted DDT, sometimes preceded by a scoop lift)
Fall Of Man (Fireman's carry facebuster)
[If you use, this please don't have it kicked out of.]
Original Sin (Kneeling Iconoclasm), crosses opponent's arms when goes for the cover
Signature Weapon(s):
Barbed wire, broken glass, chairs, steel chain, tacks, and every conceivable form of weaponry available.
Weapon Finisher:
Spinning side slam onto barbed wire, broken glass or tacks.
Drop toe-hold onto an opened steel chair.
AKO (Apocalypse Knock Out) (Big right-handed hook delivered with a chain wrapped around fist to opponent's head.)
Paralyzer (Modified curb stomp, instead of pulling back on arms, uses chain over opponent's throat.)
miscellaneousINFORMATION
Manager (optional):
Nightmare - HIS Empress of Hell
Nightmare | Bio

Rivals:
Azrael - The Archangel of Death
Azrael | Bio
Action Wrestling Record:
0-0-0