Post by Action Reel on Jul 6, 2021 18:03:50 GMT -5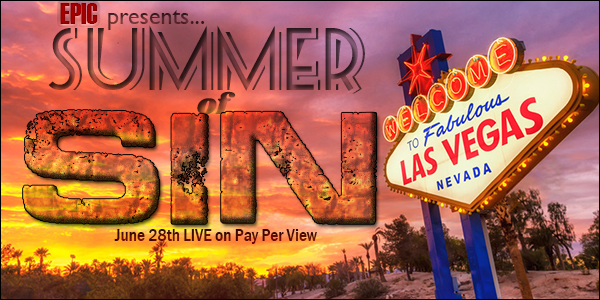 ---
Ryden Lauffeyson vs. Patroller Black
Bridget Lewis-Killings: People watching around the world, I'm Bridget Lewis-Killings and it is my pleasure to welcome you to EPIC Summer of Sin. Tonight is set to be an action packed evening as we have every single championship on the line, contenders to be crowned, and rivalries settled. Without any further delay, allow me to introduce the opening contest. It's a rivalry and mystery that has spanned two companies and several confrontations, let's take a look at the highlights from Ryden Lauffeyson versus Patroller Black!
Black immediately goes for the Pew! Pew!, but Ryden sidesteps, so the sparks miss his face, and he nails Black with Helgi's Thrust, followed by a vicious Blood Eagle for the pin and the three count!
Bridget Lewis-Killings: In a quick victory of just five minutes, two seconds, Ryden is victorious, but that wasn't the end. Take a look.
The camera goes backstage, where Ryden and Black stand facing one another. The camera is behind Black's shoulder so we can't see it when he opens the faceplate of his helmet, revealing his face to Ryden as promised. A golden glow emanates from the helmet in a Tarantino-esque "briefcase" fashion, and Ryden is stunned.
Ryden Lauffeyson: It's full of stars... No words... Should have sent... a poet.
Patroller Black: TOLD you I wasn't Connors.
Black's helmet snaps shut, cutting off the glow as the spandex clad hero turns about face and exits the room.
Ryden Lauffeyson: Who the hell was that masked man?
A Little Jayde-d

Cutting away from the finish of the first match the crowd is treated to the newly dubbed Career Killer, among many other names. Noah, already wearing his wrestling pants along with a new "Career Killer" t-shirt, is standing next to a familiar face in the wrestling world, the former color commentator of Redemption Wrestling, none other than Jayden Skiles. Jayden's look has changed up since she was last seen in the wrestling world, with both arms now sleeved instead of just the one, and her normal tight dresses exchanged out for a black v-neck band shirt, showing her midriff, and a pair of black leather pants.
Jayden Skiles: For those of you who don't know me, shame on you. For those of you who do, it's good to be back, and in this prestigious position as the personal interviewer of Noah Field. Noah, while I'm honored and privileged to have this position, why don't you explain, and in simple terms so they all understand.
Noah Field: It's simple, Bridget Lewis-Killings is a moron who has no business to interview me. I deserve the best, someone who will ask the good questions, the hard-hitting questions, not slanted BS. I figured I'd do what EPIC won't, and that's hire the best myself. That's why you're here, Jayden, in this illustrious position.
Jayden Skiles: Illustrious it is, and thank you for this opportunity. There's been a lot of a speculation, along with a pretty vague tweet about why the hyped-up contract signing didn't happen last week. Care to comment or elaborate on why it was you, yourself, called it off?
Noah Field: I'm a man of principles and morals. I'm a man of high standing, with a reputation to uphold and I walk by a certain standard, a Gold Standard. Imagine how I felt when I saw the book listing for last week's show, I saw that it was to be conducted by none other than Bridget Lewis-Killings? Since the day I arrived she's taken every chance to criticize me, to skew the facts to make me look like something I'm not. She tells one half of the story with no regard to my half. I refuse to share airtime with such a person, so I had them pull the contract signing. Plain and simple.
Jayden Skiles: Don't you feel the least bit bad about the huge ratings hit the show took with you not appearing?
Noah Field: I do, it's a shame. But at the same time, Jayden, you tell me, should I really be appearing on free television as much as I have? I'm worth far more than 10 bucks a month to Prime Video. Watching me is watching history in the making. It's not a travesty when I don't show up on free television, it's a blessing when I do. I mean honestly, a man of my talents, stature, and importance, anyone should feel blessed that they get to see me on anything outside of a Pay Per View event. So rather than moaning about my pulling a segment last week, allow me to say...you're welcome. You're welcome for being on free television the week prior. That's out of the own kindness of my heart and my charitable ways.
Jayden Skiles: You are definitely a saint. Before we move on to Scarlett, I'm curious how you feel about the emotional speech from JC Keeton last week.
Noah Field: I feel bad. I feel terrible. I feel horrific. I mean to have sit through such dribble and suffer through a meaningless retirement, it was hard to watch. Who really cares? The thing is, to have a retirement speech, you have to have had a career that mattered. JC Keeton was just Jake Keeton lite, and Jake Keeton was barely even a blip on the radar. When I ended his career, I did JC and the rest of the wrestling world a favor...you're welcome. But if he wants to play for the sympathy of others because it makes him feel better about just how insignificant he is, then I'll let him play it for a bit. That's why tonight, I'm introducing my new move in honor of JC Keeton and his short and lackluster career. A move I'm calling Early Retirement. So make sure you stay tuned for that, it'll be the highlight of the card, guaranteed. Of course, when I'm not. That sold out house will empty out after my match, because no one cares about anything that comes after me.
Jayden Skiles: I know, right? To not put you in the main event is just asinine booking, but I digress. What about Scarlett Payne and this big Full Metal Lockdown match tonight. Surely you have some thoughts on that?
Noah Field: Scarlett, Scarlett, Scarlett. That's all I've heard. I get it, she's the "Ultimate Underdog". She's this so called "hot little surfer girl", and sure, she has some chops in the ring, but she's not me! TECHNICALLY she's beat me in our onmy two matches, but everyone gets a stroke of luck, or a hot streak. What history doesn't show is that while she's got lucky twice inside that ring against me, I've dominated her outside the ring, because I'm simply that much better. And tonight, you'll finally see that stigma of Scarlett go down in flames when I put her down once and for all. And after I do, I'm coming for the big belt, because I Am Noah…
The camera then cuts away.
#1 Contendership for the Tag Team Championship
V.I. vs. D.D.S. vs. Omaha Hardcore
Bridget Lewis-Killings: Our next match will shift the landscape of the blooming tag team division in EPIC. While the titles won't be on the line until later, the number one contenders will be crowned now. Will V.I. take the win and get the chance that was taken away due to interference from Asylum? Will D.D.S. pull off the upset? Or will Omaha Hardcore build on their momentum from last Chaos and earn their first title shot in the company? We'll find out right now as we take you to ringside.
The feed shifts to the ringside area where Rosie and Emmie are mid-lockup but mysteriously the team of Dizzie and Celina del Añil are nowhere to be found. Rosie goes to Irish Whip Emmie but Moore ducks underneath and slams Sinn's head down to the canvas. Laying in some boots, Emmie then goes for a neck snap but Rosie is able to roll back, hooking her legs around Moore's neck to take her down with a modified Headscissors which takes her down. Emmie with a tag to Natalie. The duo try to take Rosie down a Spinning Heel Kick and Leg Sweep combination after a double kick to the midsection but Sinn's able to avoid it with a roll. She follows this up with a Double Knee Facebreaker to Emmie which sends her rolling out of the ring. Making the tag to Flip, the duo decide to cap things off much like they did this past Monday, grabbing a hold of Natalie this time, and dropping her with the 53rd and Third (Flip does a powerbomb while Rosie does a back cracker at the same time), pinning her for the three count before Emmie could come and break it up.
Bridget Lewis-Killings: Much like last week, Omaha Hardcore was able to secure the victory over D.D.S. and we here at EPIC will do what we can to get an update on the conditions of Dizzie and Celina del Añil who appears were attacked backstage prior to the match. While there were no witnesses on the scene, we can't help but wonder if it had anything to do with what happened to our World Champion El Diablo Blanco this past Chaos.
Let's Be EPIC!
Omaha Hardcore has just won the tag titles contenders match when the show shifts to Iggy Clash. The third member of Omaha Hardcore is watching CCTV and pumps his fist as he watches his teammates come away with a big win.
Iggy Clash: Hell to the freakin' yeah!! Tag titles on the way. That's so punk!!.
Scarlett Payne watches Iggy's reaction with a broad smile before speaking up.
Scarlett Payne: One down one to go. How's your melon, Iggs? I mean, this isn't some run of the mill match bro.
Iggy Clash: Dunno, ask me a few questions. Let's check it out.
Scarlett chews on her lower lip for a moment thinking.
Scarlett Payne: What's the best punk band of all time?
Iggy Clash: The Ramones!!!
Scarlett Payne: Correct! Alright, what city are we in? The first one was way too easy.
Iggy Clash: Brooklyn, New York!!
Scarlett Payne: Shit, I forgot that's your thing. Um, who's ass are we kickin' tonight?
Iggy Clash: High School Musical, Tiny Package Roid Rage, and Silicone Tits Judo!
Scarlett laughs loudly and turns to her brother Johnny, who's been quiet for a change.
Scarlett Payne: Sounds good to me but what do you think, J?
Johnny Payne: I think those were some damn good edibles I picked up earlier today. I'm serene…
She nudges Johnny in the ribs.
Scarlett Payne: Dude, seriously? I told ya after the match. Now focus please.
Johnny Payne: I am focused. Laser. It's like…serene. These are like Ritalin..
Iggy Clash: He seems good to me. Even punk can be serene. Ever heard Green Day unplug?
Scarlett Payne: Dude, that's righteous for sure! Alright, I give. You guys are both as epically awesome as I am. Fair?
Johnny Payne: I'm ready. I want my hands on that bitch cuz of mine.
Iggy Clash: She's not that badass. I've beat her. Let's just go do this. Show EPIC what really is epic. And I got dibs on Roid Rage Frankenstein!
Scarlett Payne: Good that means Crown Bitch is gonna be my bitch again! I think we're ready so like ya said, Iggs, let's be EPIC!!!
She wraps her arms around Iggy and Johnny as the scene fades out.
#1 Contendership for the Elite Championship
Skag vs. Kader Hasheem vs. Chiaki Kodaka
Bridget Lewis-Killings: Later on this evening we will see the EPIC Elite Championship up for grabs as defending champion Maverick takes on Angel Kash. Following this match, one of those two competitors will find out who they will be facing in a future title match. Let's bring the focus to the ring and see who will come out victorious in the closing moments of the match.
Following a Tiger Feint Kick onto Skag, Chiaki looks to finish things off with her Shining Wizard but she gets cut off at the pass by Skag who hits her with the Eurotrash Dump (Wheelbarrow Bulldog). Before he can capitalize though, he's spun around into the waiting arms of Kader Hasheem who levels him with a Chokeslam before tossing him roughly out of the ring. Left on her own, a dazed Chiaki gets deadlifted up by the powerhouse Kader before he takes her down and out with The Thunder (Triple German Suplex followed by a bridging pin) getting the pinfall victory and number one contender status.
Bridget Lewis-Killings: Kader Hasheem is able to pull off the impressive win here tonight, pinning Chiaki at the nine minute and thirty-eight second mark to become the new number one contender for the Elite Championship.
#MeToo
Rosie Sinn walks into the greenroom.
Flip Haze: Getting smooches from Iggy before his match?
Rosie Sinn: Something like….what the hell are you wearing?!
Flip Haze (holding out his shirt) It's a Flip Haze #MeToo t-shirt.
Rosie Sinn: You can't freaking where that shirt. It don't apply to you!
Flip Haze: (confused) Why not? You always where a "Greatest Tag Team Evah" shirt. This is saying me, too.
Rosie Sinn: Man, that's not what that means. #MeToo means you've been sexually harassed by men in power.
Flip Haze: But...I haven't?
Rosie Sinn: Exactly.
Flip Haze: Fine, trade me shirts.
Rosie Sinn: Can't. I've never been harassed.
Flip Haze: Well shit, back to the drawing board.
Rosie Sinn: (Nudging him) Bright note. One step closer to showing we EPIC what we already know.
Flip Haze: That I can down this foot long sub in three bites?
Rosie Sinn: No, that we really are the Greatest Tag Team Evah…..
Future Endeavored
The feed cuts to the interior of the elaborate dressing room of Gold Standard. Mercy Payne is putting the final touches on the intricate braid she wears for each match. Every so often, she glances at the door as if she's waiting on someone. Finally as she finishes, she turns her attention to Devil Drake.
Mercy Payne: He's cutting it close, don't you think?
Devil Drake: Hey, you hired the ginger fuck. I told you, never trust a ginger. Especially if they say they don't have HPV.
Mercy laughs and smiles.
Mercy Payne: He's not the only one I'm waiting on. Just do me a favor and don't drool too much alright?
Devil Drake: Dear, have you looked at me? I don't do the drooling, they do.
He smirks and flexes his pecs.
Mercy Payne: Sweetheart I don't recall being the one drooling when we met -
She's cut off mid-sentence as the door swings open and the tall, redheaded manager, CT Landon waltzes in. He smirks over at Mercy.
CT Landon: Well your highness, ya said ta get my arse here. I'm here. Ya know with this bein' a cage match, there's not much I can do, right?
Mercy glares at him as her anger rises. She takes a deep breath and stands up, crossing over to him quickly.
Mercy Payne: Look you smug little shit, I did tell you to be here but it's not what ya think. WE don't need your help out there. This match is tailor made for us, don't you think? In fact, I don't believe we'll be needing your services ever again..
CT begins to take a few steps back, stammering.
CT Landon: C'mon lass, we've been a team for years. I've always been there for ya. We can work it out right? (he swings his gaze to Devil for assistance)
Devil Drake: Why the fuck you looking at me, Red?! I've never liked you. You're the mouth breathing scum who just wants the piece of the pie cause you ain't good enough to get it on your own. So..
Devil steps close and looks down on him.
Devil Drake: If I were you I'd shut the fuck up and listen before someone gets themselves hurt.
Mercy closes in on the other side.
Mercy Payne: He's not gonna help ya short bus. Yeah, you've been with me for years. In 3XW, you spoke for me so I didn't have to worry about it. I could focus on the No Mercy matches and it worked. The thing is, I don't need you to speak for me now. Plus the fact that you shot your mouth off at our boss. I'm all for controversy but that was the dumbest fucking thing you've ever done since you started. You're reckless and I can't afford to let you ruin this before I get started.
She turns away from him and shrugs her shoulders.
Mercy Payne: Besides, I've already found your replacement..
She spins quickly, striking CT with a spinning elbow to the face causing him to fall into Devil. Devil pushes him to the ground.
Devil Drake: You dumb son of a bitch. You got your fucking blood on me. I think you owe me an apology.
CT grabs his mouth, spitting blood into his hand.
CT Landon: Owe you an apology?! Are you fucking kidding me?!
He then spits another glob of blood onto Devil as he backs away.
Devil moves in quick, grabbing CT by the throat and lifts him off the ground.
Devil Drake: You ginger fuck. I'll beat you like your name was Iggy Clash!
Mercy moves in closer, smiling as she watches Devil. She goes to open her mouth but a deep, throaty voice interrupts her.
Voice: Am I interrupting? I mean this looks like a normal day at the office for me and far be it for me to interrupt playtime…
A tall, statuesque redhead is standing in the doorway, leaning casually with her arms crossed under a rather large bosom.
Mistress Destiny Starr: Mercy sweetling, is that what I'm replacing?
Mercy turns her head at the first word and smirks.
Mercy Payne: Unfortunately yeah it is. I know we've -
Destiny holds her hand up, halting her words.
Mistress Destiny Starr: No worries, dear heart. I've worked with Noah before and I've had some...dealings with your cousins as well. The only unknown is the wall of muscle standing there with the useless meat puppet. He's … something.
Mercy grumbles low in her throat causing Destiny to laugh.
Mistress Destiny Starr: That answers that then. Fair enough. I'm just here to make sure Gold Standard gets exactly what they deserve. Now...Devil, is it? Would you mind taking out the trash so we can have a little team meeting?
As Devil shoves CT unceremoniously out the door, the scene fades out.
Full Metal Lockdown Match
The Gold Standard vs. Iggy Clash, Johnny Payne & Scarlett Payne
Bridget Lewis-Killings: Our next match of the night is the first ever Full Metal Lockdown match. The rules to the match go as is. Once all both teams of three are in the ring, a Hell in a Cell style cage will lower over the ring. There will be three officials, two in the cage, one outside the door working the door. The match will then start. Once a team member is made to pin or submit, they will then be made to exit the cage immediately. If said wrestler doesn't exit the cage in a timely manner, then the official has the right to disqualify an additional member of the team. In the cage, anything goes, there are no rules, no rope breaks, no disqualifications, and no count outs. The match ends when only one team is left standing.
Highlights of the match start to show on the screen next to Bridget as she goes over highlights of the match.
Bridget Lewis-Killings: Gold Standard came to the ring first, showing a united front as they made their way to the ring a deafening boo from the live crowd. Next out was Iggy Clash, who waited on the ramp until he was joined by Payne Project, brother and sister duo, Johnny and Scarlett Payne. The feeling in the ring was tense as the cage lowered down, but it was no more locked in place and things got violent right away, with Iggy toeing off with Devil, Noah toeing off with Scarlett, and Johnny and Mercy toying off. For just over ten minutes all six competitors went back and forth with a series of both violent moves, and good tag team double and triple team moves, as even Iggy seemed to mesh well with the Payne Project. At the 12-minute mark we had our first elimination in the match. Let's take you to the action to see it.
Cutting to the action away from the studio, outside the ring Devil Drake and Mercy Payne have Iggy in the corner of the cell double teaming him, with Scarlett laying on her back just outside the ring. Back in the ring is where the action focuses, where Johnny Payne and Noah Field are squaring off. Johnny hits the Johnny Payne Kick on Noah and goes for the cover, but Noah kicks out just before the three count. Johnny pulls Noah up to his feet. Johnny goes for Heroes' Finish on Noah, but Noah bridges him up and over, watching as Johnny lands flat on his back. As Johnny gets up, Noah gives him a low blow. Then he hits a hammer lock cradle DDT, planting Johnny on the mat. As Noah jumps up he shouts to the crowd with a smirk on his face.
Noah Field: How do you like that!! I call that Early Retirement!!
The crowd cheers to Noah's shock, but then as Noah is grabbed from behind as Scarlett gets him in a crucifix pin. Noah kicks his feet wildly trying to get out, but just can't as Scarlett gets the three count on Noah eliminating him from the match.
Back in the studio we see Bridget Lewis-Killing again as highlights again start to show.
Bridget Lewis-Killings: After a complete man handling of Iggy, he was left on the outside in a mess, while Devil Drake and Mercy Payne took to the ring with the Payne Project. At this point the match became a spot fest of two on two tag team wrestling leading to the 16-minute mark, where we take you down to the ring again. Johnny took it one step too far, however, and went high risk high reward, but the risk turned out to be too much. Let's again take you to the action.
Mercy and Devil send Johnny into the ropes, when he comes back, they both catch him and go to toss him over their shoulders, however, Scarlett slips him and allows Johnny to bridge over her back and land on his feet. Then both hit a superkick on Mercy and driver her to the mat. Scarlett follows it up tilt-a-whirl-head scissors take down into a DDT on Devil. While she does this, Johnny goes to the top rope and tries his first ever 450 splash, but he over rotates and misses his mark as Devil is just able to get out of the way.
Scarlett goes over to Devil, but as she does, Mercy sweeps her leg and then follows it up with a hiptoss into an armbar, but Scarlett quickly slips out of it. By then, Devil has recovered and notices they have a chance for a two on one with Iggy and Johnny both out. Devil lifts Scarlett up from the mat before she get up, lifts her up on his shoulders, then guerilla presses her. Eventually he tosses her out flat in front of him and Mercy catches her with a knee to the forehead. Then Mercy pins Scarlett to eliminate Scarlett.
Back to the studio.
Bridget Lewis-Killings: The duo then tried to eliminate Johnny, but the pin was broken up by Iggy Clash, as he pulled Johnny out of the ring. Mercy and Devil took chase, and eventually cornered Iggy outside the ring where they began a two on one attack for the next few minutes. And this is where we take you back to the action.
Outside the ring, Mercy takes the head of Iggy and drags it across the cage fencing, then shoots him over to Devil, who levels him with a big boot as Iggy drops almost like deadweight. Devil notices Johnny starting to move so he goes over to subdue him again. As he gets there, Johnny desperately pulls something from beneath the ring and in the confusion, manages to wrap a leg shackle around Devil's left foot, successfully cuffing his foot to the bottom of the ring.
Johnny smiles and gets up, moving toward Mercy. Mercy turns just in time and hits a spinning fist to the throat of Johnny, choking him, then rolls him under the ring. Then she locks him in No Mercy, but before Johnny can tap out Iggy rolls into the ring and breaks the hold. Outside, Devil struggles, but can't manage to free himself.
Mercy turns to go to work on Iggy, hitting a roundhouse to the rib section and then moves in for a suplex, but instead she gets caught from with a knee kick. Then Iggy hits an atomic drop followed by a clothesline. As Mercy falls backward from the clothesline, Johnny catches her with a backcracker. Then Johnny locks on a Johnny Payne Submission (seated Fujiwara armbar). Mercy reaches out for the ropes, but it doesn't matter with no rope break. She starts to wiggler her way out of it, but then Iggy gives her a kick to the back of the head. About that time Devil manages to break the chain around his foot, but he's too late as Mercy goes limp and the referee calls for the submission due to her passing out, eliminating Mercy.
With the match now two on one, Johnny runs the ropes and suicide dives, only Devil catches him and slings him into the cage. Iggy tries the same, but as he runs the back rope, Devil grabs a chair, turns, and swings it like a baseball just as Iggy comes through the ropes and takes a shot to the head, busting him open. Devil turns to Johnny then, who's starting to get back to his feet. Devil runs at him and nails a running big boot with such force it puts Johnny through the cage wall to the outside while the crowd chants "Holy Shit".
Devil lifts Johnny up, takes him over to the ring and tosses him back in. When Devil rolls in, he locks on the Fury Lock (over the shoulder single-leg Boston crab). Johnny tries to fight, but eventually he taps out.
Now down to just Iggy Clash and Devil Drake, Devil rolls out of the ring, where Iggy is trying to get up, but keeps falling back down. The referee starts to ring the bell and stop the match, but Iggy grabs the referee and shakes his head no and pleads with him. That's when Devil arrives and pushes the referee aside before rolling Iggy back into the ring. Iggy tries to hit a kick on Devil when he rolls back, but in his weakened state is has no effect on Devil as he no sells it. Instead Devil pushes him away and then hits a spinning backfist, taking Iggy down. Iggy stumbles back to his feet, barely standing and says "It'll take more than that." Devil responds by nearly tearing him in half with a spear. Then he motions to finish it before he hits Devil's Due (burning hammer). Devil pins Iggy, the referee counts three, and the match is over, with Devil Drake as the lone survivor as Gold Edition wins Full Metal Lock Down.
EPIC Tag Team Championship
Kaiju Krushers (c.) vs. Asylum
Bridget Lewis-Killings: The EPIC Tag Team Champions will be decided next as defending champions The Kaiju Krushers take on Asylum for the gold. Over the past few weeks Asylum has turned the tag team division into utter chaos and after a hard fought victory against V.I. have the chance to take the place at the top of the mountain. Will they be able to accomplish this task or will the champions continue their undefeated streak as a team at their expense? We're about to find out.
Drawing attention to the monitor, we are once again taken to ringside where Lynx and Killian continue to work over Hayato, who after a brief spell of offense, has been isolated for some time. The team look to end things with The Splatter Control but Hayato is able to counter the Powerbomb into a Hurricanrana, causing the two Asylum team members to collide into one another. The tag is finally made to Rain who comes in with a leaping double dropkick to both oncoming members of Asylum. Hayato then comes in, tackling Lynx out of the ring, taking himself and his opponent out of the equation. While Killian is able to take advantage with a few heavy strikes, Rain counters an attempt to finish him off, taking him down with the Taifu Tsuisuta (Modified S.T.O.) to get the pinfall win for his team.
Bridget Lewis-Killings: The Tag Team Champions retain their titles in a hard fought, but decisive victory against Asylum here at the fourteen minute and twenty-two second mark.
Champion of the People
Earlier Tonight…
Out in the parking lot of the Chaos Complex a Burnt Sienna Chrysler Pacifica is seen speeding into the parking area and does a burnout turn leaving tire marks. The Pacifica parks perfectly between two white lines of a parking space. Almost immediately the driver side door opens up as the EPIC World Champion El Diablo Blanco emerges with a Lacoste polo (completely with little green alligator), cargo shorts and white New Balance shoes complete with mid calf white socks. The EPIC World Title is already over his shoulder as the cameras move in closer to the champion.
El Diablo Blanco: That Chrysler Pacific sure does handle well with the automatic park feature now doesn't it, Brother.
El Diablo motions to the camera with his fingers like a gun followed by a click of his mouth and a wink.
El Diablo Blanco: Keep your eyes and ears open tonight, Brothers. Tonight the Backyard Phenom known as El Diablo Blanco puts the EPIC World Title on the line against not one but two opponents. Now, over the last few months, there has been one painstakingly obvious fact going around. That FACT is that many of my fellow compatriots don't THINK that I am a worthy champion. No, no, they think El D is a bit of a joke. Ever since I put the pen to paper many moons ago to come here to EPIC so many in the back dismissed me. Who's this guy walking around backstage in a cheap mask? Who's this guy walking around backstage in zebra pants? El Diablo is walking around in the land of the giants, Brother, as everywhere I turn there's some 6 foot-something 250 plus pound behemoth laying claim to the keys to the castle. I mean, come on, there was a guy walking around that his entire gimmick was that he eats a lot. El D doesn't discriminate because the Diablo Nation knows full well that he can put down an entire crave case to himself.
El Diablo pauses for a moment and looks away from the camera before quickly returning.
El Diablo Blanco: Wrong restaurant. Rewind. The Diablo Nation knows full well that he can put down an entire At Home Taco Bar Party Pack from Taco Bell.
Again, El Diablo winks at the camera.
El Diablo Blanco: People believed it was a fluke that this dope in a mask could make it here in EPIC. When I became the first ever Violence Champion many viewed it as nothing more than a fluke. Granted I lost the belt that very same night in a matter of minutes but that's neither here nor there. People began taking me a bit more seriously when I won the Violence Title a second time but in that same breath I was labeled as nothing more than a Violence Division garbage wrestler. Oh, he can get over by lighting himself on fire but he's still a joke. That El Diablo is only kept around because he hawks burritos and brought a sponsorship deal to EPIC. Imagine to my dismay, Brothers, when my triumphant moment of winning the EPIC World Title soon became a joke once again. It was known as one of the biggest upsets in history, Brother, but El D did it all because of the strength of a Nation behind me. In subsequent weeks my victory celebration was ruined time and time again. The supposed "face" of EPIC, its World Champion, was playing second fiddle to all those around him. I can dig that, Brother. No, El D is a man of the people. El D is a man that fights for what he wants. El D set out to prove that he is the EPIC World Champion for a reason. Graham Baker questioned why I even deserved to stand in the same ring as him and El D gave him that answer.
El Diablo adjusts the title over his shoulder and gives it a quick pat on the faceplate.
El Diablo Blanco: EPIC gave me one of my earliest shots in this business. They gave me the platform I needed to express myself. So what did your favorite dude, El D, do? I went out and I signed on to defend this EPIC World Title in a young upstart promotion known as UCCL on their first tour. My reasonings for that were three fold, Brother. 1) Just as EPIC gave me the platform to get my name out there I, in turned, wanted to spread the word of EPIC to the masses. 2) I wanted to prove that El Diablo Blanco is a deserving champion. My contract with UCCL stated I would put the World Title on the line in not one, not two, not three but four Open Contract matches. I wanted to test myself as champion by not even knowing who my opponents were until they came out to that ring. And C) It was pretty gnarly to light myself on fire so many times in one week.
El Diablo chuckles to himself.
El Diablo Blanco: But tonight is not about what we have done in the past, Brother. It's not about the five successful title defenses we've had leading up to the main event of Summer of Sin. No, we must not live in the past but rather look to the future. I would say that my future is so bright I've got to wear shades but the truth of the matter is sunglasses have never fit all too well over this mask of mine. No, tonight El D defends the EPIC World Title in a triple threat match against "The Nova Remnant" Terra Mason and "The EPIC Gamer" Daniel Dream. The thing is, this is no game. The masses have always taken note of the boisterous playfulness of El Diablo Blanco, and for good reason, but sometimes they tend to forget that El D is a fighter. Take away the sponsorship for a burrito. Take away the silly catchphrases, the Zubaz, the mask… well, not the mask. You'll never take my mask off. My wife and kids haven't even seen my face in months. You take away it all and strip me back down to the bare bones I'm still a fighter. Wrestling is in my blood, Brother. I may not have an extensive moveset. I may not have the crisp, fluid movements of my opponents. I may not be 6'4" 225lbs but I'm a fighter. 5'10" 235 lbs of dad bod doing everything he can to prove that the everyday common man can rise up and become something great. A 35 year old man doing everything he can to provide for his wife and children. This EPIC World Title comes with a champion's purse. It pays handsomely, brother. There was a point in time in which I was fighting just to make ends meet.
El Diablo pauses again and looks off camera.
El Diablo Blanco: That phrase never made any sense to me. Making ends meet used to mean you had money. It meant that you were wealthy enough to have servants that would tug until the ends of the corset you wore met. I wonder how many people actually know that?
El Diablo shakes his head briskly as his attention was taken elsewhere.
El Diablo Blanco: IT DOESN'T MATTER WHAT THE PHRASE USED TO MEAN? There was a time I fought to get by. No more. I'm not looking to just get by. I'm looking to thrive. I'm looking for my family to thrive. All that begins tonight at Summer of Sin when your boy, El Diablo Blanco, puts his EPIC World Title on the line against the gamer dude and the Nova dudette. Tonight we rock this ring like a hurricane, Brother. That's right. There's no reason to fear the reaper so dream on as we take that stairway to heaven. I've got not only one reason but two to not stop believin', Brother, and it's those sweet children o' mine. So, Terra Mason, Daniel Dream, prepare to feel comfortably numb because I'm going to shake you all night long. When all is said and done. After the rhapsody we're about to put on, your names are going to be added to the list of defenses I've put upon my reign. Graham Baker, Ryden Lauffeyson, Arielle Everly, Celina Connors and Trent Pearson. I've been writing those names on bricks so that when I get back home to the casa, go to my gym, your names will be just another brick in the wall. Yeah, yeah, I know that last one was a bit of a journey to get to but mark my words. El Diablo Blanco can be fun and games and that's just because I'm being me. Just don't underestimate my ability in that ring. I've been trained by the best there is at GOAT Farm Wrestling. Terra, Daniel, those four masked jabrones from last week, don't make me angry. I'm not very pleasant when I get angry. Diggit?!
With that, El Diablo pushes past the cameraman and makes his way towards the Chaos Complex.
EPIC Violence Championship
Drake Connors (c.) vs. Damien Maddox
Bridget Lewis-Killings: Up next is our second of four championship matches of the night as Drake Connors defends the EPIC Violence Championship against Damien Maddox. Leading into this match Maddox has targeted those closest to Drake as a way of getting into the champion's head. Connors in a twist seemingly thanked his challenger for giving him the opportunity to unleash a different side of himself. Considering his injuries from last night's UCCL show, will that be enough to secure another successful defense or will we see the crowning of a new champion? Let's find out.
The camera feed shifts over to the medical office of the Chaos Complex where Dr. Dinglenüt is checking on the condition of Drake Connors following his match with UCCL last night, Connors having been given a concussion by his son. Before the good doctor can give Drake the go ahead, Connors is cracked with a chair shot to the back of the head. Dinglenüt tries to plead with Maddox to back off but gets scared away for her troubles. Damien grabs Connors and throws him from one end of the room to the other, causing his body to collide head first into walls, chairs and the doctor's desk. Drake tries to fight back with a few shots but due to his equilibrium being all sorts of off, he's unable to follow up on the strikes and gets taken down with the Cerebrum (Death Valley Driver) that gets Damien the pinfall and championship.
EPIC Elite Championship
Maverick (c.) vs. Angel Kash
Bridget Lewis-Killings: With the crowning of a new Violence Champion and the Tag Team Champions retaining, defending competitors are one for two so far this evening. Will Maverick be able to hang onto his title as he faces off against Angel Kash, who for weeks has stated that she is the only one worthy of the title Elite? Or will the trillion dollar princess add the championship to her mantle? Let's go to the ring and see.
The monitor brings us over to the ringside area which catches the moment of the bell ringing to start the match. Even with Maverick sporting some evident battle scars from his match last night, Kash looks hesitant to lockup with the champion. Tired of her dodging and posturing, Maverick grabs Angel by the throat, choking her, only for one of her security to slide in and club him on the back of his head, causing him to let go, and for the disqualification. The security takes off his hood to reveal himself to be Kader Hasheem who picks up the injured champion and drives him to the canvas hard with a Jackknife Powerbomb. Before anything else can be done though, Maverick's husband Hayato runs down, baseball bat in hand to chase out both Kader and Angel, who seem pleased with what went down.
Bridget Lewis-Killings: A heinous assault by the new number one contender brought this match to a close before it can really even get started. Thankfully Hayato was able to make the save although Angel Kash, who was disqualified, didn't seem too bothered by what transpired.
Game Over?
Daniel Dream appears sitting in front of the camera with his hands folded, his blue eyes stare through the camera like he did at MAYHEM Devil's Due.
Daniel Dream: "Game Over", a staple of every video game old and new as a vehicle to convey to the player that their efforts failed...that they didn't finish the task before them.
A replay shows Kyu reversing Daniel's attempted Konami Code Breaker into a Gannosuke Clutch for the surprising pin fall to win the Violence Championship, Dream getting his shoulder up before the ref got to three but the ref didn't see it. Another replay shows Dream putting Kyu through glass with The Pro Gamer Move but the REBIRTH match ending before the ref made the count. A final replay shows Graham Baker flipping Dream upside down with Clean The Blade. The scene cuts back to Daniel.
Daniel Dream: Failing is one thing, getting screwed over repeatedly is another. Like always, I have to keep on fighting. Losing will never stop me. I'll be in the ring doing what I do best. Terra Mason, you are one of the competitors that is almost at my skill level in this game and I plan on making sure that you soon realize NO ONE is on my level.
A replay shows Dream spinning Diablo around and the heat of the fiery 350,000 Scoville Heat Units being spit into Dream's blue eyes. The scene cuts back to Daniel.
Daniel Dream: El Diablo, I can't deny that I was surprised by the effort you gave against me, I wish you good luck with the hope that you do things the right way.
Daniel's head starts slightly shaking.
Daniel Dream: There are rumors that a person in EPIC wanted you to be entering the EPIC World Championship match less than one hundred percent and that is why you were attacked by the masked attackers, various online sources have gone so far as to identify the person by name. It is in the opinion of anonymous sources on the internet that the culprit behind this mystery is most likely….me, I concur. You see you woke up a side of me that will sink to any level to get what he wants, who doesn't care how many backs he bruises to step on to get to the top!
A quick final replay shows masked attackers stomping the back of El Diablo until it's bruised. The scene cuts back to Daniel as he shakes his head and a smile is forced onto his face.
Daniel Dream: Ha ha got em', I know I look suspicious but I'm innocent because I'd hate for the final boss to be entering the EPIC World Championship match with less than a full health bar, puhuhu.
EPIC World Championship
El Diablo Blanco (c.) vs. Daniel Dream vs. Terra Mason
Bridget Lewis-Killings: Following that interesting statement, we now turn our attention to the main event of the evening. A triple threat match pitting the defending World Champion El Diablo Blanco and the two people who share the status of number one contender, Terra Mason and Daniel Dream. We heard from two of the three combatants here tonight. Let's see if one of them can make their words a reality or if the silent nova will claim the title as her own. We now join ringside for the final time.
Before heading to ringside, cameras cut to backstage where we see, Terra Mason getting medical attention, her silver and purple locks coated in red. Security approach Dr. Dinglenüt who states that she's in no condition to compete and will have to be taken to a local medical facility for further evaluation. Cutting back to the ring now, we see both Dream and the champion El D suddenly get surrounded by more masked assailants who are dressed the same way as the ones from last Chaos. The World Champion wastes no time in going after them, striking the closest ones while calling out to the others to come in for a fight. Dream and El D stand back to back now ready to fend them off. They both lunge forward to strike but the champion is turned around at the last second and floored with the Konami Code-breaker (Double Knee Facebuster) much to the shock and disapproval of the fans in the Chaos Complex. Dream looks down at the fallen champion before reaching out for a bag that one of the masked men has. Placing the shorted out Xbox One controller on the chest of El D he has one of his accomplices snatch the EPIC World Championship from the ring attendant before leaving with the belt. The last image seen is Daniel Dream carrying the World Title on his shoulder before the show fades to the company logo.