Post by Goro Shimura on Jun 3, 2021 11:10:14 GMT -5
Character Name: Goro Shimura
Nickname: Basutādo
Hometown: Waga District, Iwate, Japan
Height: 5'10"
Weight: 235
Alignment: (Face/Tweener/Heel) Face/Tweener
In-Ring Style: Shoot Style/Catch Wrestling
Bio: An experienced hand in the ring, he has been working through various Japanese and non-Japanese federations since his debut in 1998. Most notable for an early adoption of what would eventually become mixed martial arts. Shimura eventually moved into the more shoot based federations popping up in the early 2000s, none of which lasted or were nearly as spectacular as their promoters had hoped for. As a trained catch wrestler, Shimura was well suited to this style of working.
In spite of this Shimura remained on the scene until MMA eventually was codified. As a lot of wrestlers trained in those days, Shimura's shoot style worked.. Reasonably well in the wild west atmosphere of those early days with his grappling and submissions gaining him some notoriety. After doing several cups of coffee in the US, notably in the NeWA. He returned to Japan and evolved his in-ring style to what it has been for the last decade or so. Combining his shoot style with the strikes that took precedence in Japan as well as the submissions that became popular, his late 20s saw him coming into his own.
Much like aged leather, he seemed to get tougher as he aged as well. Participating in many wild, off the rails brawls with many a nemesis'. This saw his stateside return to wrestling in Seattle, where his mixture of "give no fucks" and strike heavy wrestling made him a fan favorite for the first time. It is when he acquired the loving nickname "The Bastard". It was during this six month tour that he made the contacts that brought him back out of Japan. Following an early trial stint in Action Wrestling, Shimura removed himself back to Japan where he went back to his business of running his record store, and training wrestlers. Most notably being the trainer of on Kazuhiro Katayama, with whom he still retains a strong mentor/mentee relationships.
He is the figure who actually own the loan on the Catacombs and has decided to move to Las Vegas to oversee his investment and continue training new students while maintaining a semi-retirement.
Attire: In ring, Black Trunks, Short Black Wrestling Boots. No Kneepads, No Kickpads, No Bullshit.
Theme song:
Pic Base: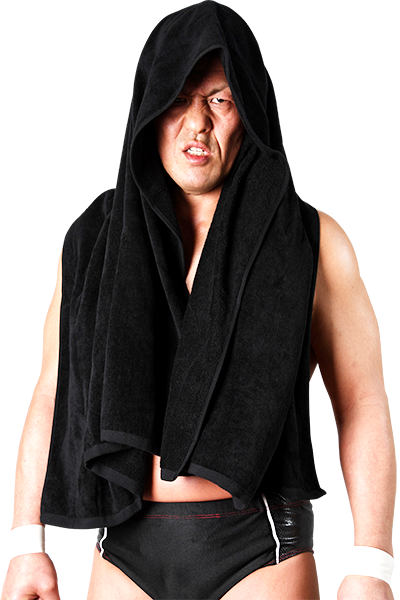 Entrance:
Favorite moves (at least 15 moves):
Elbow Strikes
Knife Edge Chops
Shoot kicks to the legs
Headlock variations
Wristlock variations
Hammerlock variations
Single Leg Takedown
Double Leg Takedown
Belly to Belly Takedown
Belly to Belly Overhead Suplex
Dropkick to a seated opponents shoulder/Arm
repeated openhand slaps to an opponent
Cross Armbar
Bow and Arrow
Signature move(s):
German Suplex- Sometimes with a straight jacket.
Octopus Hold
Fujiwara Armbar, can often be transitioned into the Bridging Fujiwara Armbar
Repeated Headbutt Strikes
Figure Four Leglock Around the ring post.
Finisher(s):
Broken Right Hand of God- Imagine if Kobashi's Lariat Was an open-hand chop to the face.
Bastard Lock I-Bridging Fujiwara Armbar