Post by "The RevolutiDaddy" Wesley on Nov 21, 2020 19:50:41 GMT -5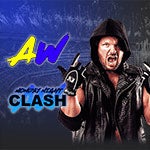 You don't know anything about me, so spare me. I have no quarrel with you, but I'll happily send you with your arm in a to-go box.
Bold assumption, don't you think?
I haven't made it to the finals in this tournament coasting on natural talent and good fortune, Howard. Absolutely not, you goblin. I learn everything I can about my opponent before I square up in the ring with them. I feel like getting inside my opponents head, inhabiting their frame of mind as they climb into the ring with me has done more for me than any night training inside that ring. As physical as this business is, the mentality it takes far exceeds any feat of strength or any boon of endurance. You either have what it takes in your head, or you don't.
You say you don't have a quarrel with me, but I - with one hundred percent assurance - can say that I have a fucking problem with you.
Howard Black, as talented as you are, you're ten times as lazy, and twenty times as arrogant. You're a mental midget who flaunts his community college education run down of his opponent like some Trailer Park Socrates, when in reality you're only projecting your flaws and failures on to everyone else around you. That will only get you so far, Howard. Like they say, it'll get you to the dance but it can't make you tap a two step.
I know - for how gifted I am in the ring - I am just a guy with flaws. Most of my opponents have tried to disparage me for being unremarkably normal, yet here I stand, in the final match to determine the best professional wrestler in the world today.
And I'm remarkably human.
Kind of like you, Howard. We're not so different, you and I. What some would call two "good ol' boys" with a chip on our shoulder. You and I, we've always had something to prove. Whether it's you proving all the doubters wrong, showing everyone who said you would never make it the real Howard Black. Or me, fighting out of my father's shadow, coming into my very own as a professional wrestler, and as a man.
I know you, Howard, because I was you.
I was lost in the fray too, constantly punching my way up. I always found some fault in my opponent, something I could sink my teeth into and take a piece away with it. It wasn't until I realized that every punch I threw, every move I landed, and every time I hooked my opponents head into the mat was one I wish I could aim inward. I was pissed off and isolated myself from the world. I forsook my family, strategically let others in, those who I knew would pose no threat in the long run, and once I was done with them they were broomed to the side.
Even more debris in my own house of dust.
But everything in this life happens for a reason, Howard. Good or bad. I discovered more about myself at rock bottom then I ever did in the ivory tower. It strengthened me, emboldened me, hardened my ever growing resolution, one that led me on this path through The Following, the Wrestler of the Year tournament, and inevitably to you.
Still don't think I know you?
You don't seem like the kind of man who can come to terms with the fact that he's wrong. To be wrong would take the edge off your blade, this delusion that everybody in this business thinks you don't belong. It's easier for you to fight from the bottom, right? I mean, your moveset all but betrays how "on defense" you constantly are. On the contrary, I know you belong here. You wouldn't be standing across the ring from me here if you didn't. You wouldn't even have tried to begin with, and you damn sure wouldn't have that United States Championship around your waist.
The problem has never been if anyone else thinks you're in the right place, man. It's a cruel juxtaposition of your own aggrandizing self worth, whether or not YOU believe the squared circle is actually your home. You've always been unable to commit. WCF. UCI. Action Wrestling. It's always been the exact same story for you, no matter where you are. Your loyalty to wrestling has always wavered in the face of your family. That's who you are at your core, a family man. An admirable quality, no doubt...
But I know better than anyone else that you can't be both. You can't be the doting father and a World Champion. You can't be a loving husband and Wrestler of the Year. You're gonna miss birthdays, holidays, and anniversaries. This world demands so much of us but we only have so much to give that somethings going to take the backseat. You want your cake and you want to eat it. You greedy bastard. You selfish piece of shit.
You think wrestling owes you anything?
Nah, man. This business is unforgiving, Howard, and it's memory is in the short term. It doesn't matter what you did all those years ago in WCF. It doesn't matter if you were UCI World Champion, and hell, after this week? It may not even matter that you were United States Champion, and it damn sure won't matter that you were the runner up in the Wrestler of the Year tournament. This is history. This is history in the making. But to you it's some errant birthright, The Honey Badger finally getting his due after all he's given.
Get fucked you delusional loser.
You want to know what my problem is with you, Howard? After all I've been through in my life, I always knew wrestling was my home. I've said it once and I'll say it again, I was born to be a professional wrestler. It's in the blood that runs through my veins, in the sweat that drips off my forehead, and in the fucking air I breathe. But you? You're just a camper, man. A tourist chasing one last shot of glory before you get to pack it up and call it a career. Your dedication has always had an expiration date, this time we just have the fortune of knowing when it is. You're always looking forward to the end so you can ride off into the sunset.
But me? I'll still be here, Howard. Long after you've packed your bag and hung up your boots for the last time, I'll still be here. That's the difference between men like you and me. You're just a lost boy whose taking that last final evolutionary step into a lost man. That's your destiny. That's who you were born to be. I know people can change, but they also have to want to change. You, however, do not. It's easier for you to stay angry, to keep your posit on your high horse. It's the only place where, for a moment, you don't feel inferior. The wool over your own eyes is comforting, a weighted blanket.
If it were to slip?
Then you would have to deal with your own shortcomings. You would finally have to catch a glance of yourself in the mirror. You'd finally get your own philosophical glimpse into your own psyche and my money is on the fact that you ain't gonna like what you see. I'd love to be a fly on the wall of that room, as the faux tower of morality you've sat on for near a decade comes crashing down to Earth and the world of illusion you've created for yourself dissipates. I'd imagine I'd have a great big smile on my face when that glass shatters and you find yourself, alone, in the house of dust that you built with your own two hands.
And that motherfucker is dirty as hell.
So how do you think this is going to go? Spitting venom has gotten you as far as you're gonna get, Howard. Now you're standing across the ring with a man who has just as much skin in the game as you. We both have everything to prove and everything to lose. The real stake here is, whose call is going to be answered? Funny how these things are always about more than just a wrestling match and a tournament. Whose going to win? So many people are waiting for the answer...
I'm the only one not questioning it.
And you? You've already lost, boy.

The scene painted before "The RevolutiDaddy" Wesley, under normal circumstances, would be one of tranquil family provision. He sat in a chair, drinking a glass of water. Ariyah sat across from him, a book in her lap, a pair of glasses halfway down her nose as she read. His boys - Ash and Jackson - played with Wendigo on the floor, their playful laughter matched in joy only by Wendigo's happy yips.
Under normal circumstances, this would be the perfect evening. Nothing special on the outside, but it was the small moments that stuck with him the most.
But tonight wasn't normal. Not only was the final match of the Wrestler of the Year tournament at Turmoil close, the looming threat of Walter hung over this moments head. He had gone radio silent since Wesley fed him his own ass at Clash, which Wesley didn't discount. A wounded dog was the most vicious.
Normally, the anxiety bubbling in his chest would cause him to go the bottle, but Wesley had a silently galvanizing moment...since he had arrived at The Following compound, he hadn't imbibed in any spirit, save his own. It was a small victory, but one that he relished as if he had just won the Wrestler of the Year tournament itself.
"It's starting to get late boys", Ariyah spoke, "Go ahead and wash up for bed."
"Do we have to?" they boys asked Wesley in near unison.
"Listen to your mother", Wesley replied, "Tomorrow is another day, brimming with its own adventure."
The boys, dejected, headed off towards their bathroom to brush their teeth and get ready for bed. As they sauntered off, Ariyah's gaze wandered towards Wesley.
"How long do we have to stay here?" Ariyah asked.
"I'm not sure", Wesley answered, "I wish I had a timeline for you, but your safety is the most important thing right now."
There was a tense moment of silence between the two before Ariyah spoke up.
"I don't feel safe here", she stated, "It's fucking weird. I mean, what the hell is going on here anyways?"
"Self betterment", Wesley replied, "Every day we stri-"
"Don't give me that bullshit Sunday school answer, Wesley", she demanded, "There's always some underlining meaning. Why did Kyle want us here?"
"So you would have the full protection of The Following", Wesley answered, matter of fact, "I couldn't guarantee your safety outside of this compound."
"I don't buy it", Ariyah replied, "I don't trust him. I don't trust Dandy. The guys are con artists, Wesley. I don't know why you can't see it."
"You're being fucking paranoid, Ari", Wesley rushed to their defense, "Kyle and Dandy have made your safety their utmost priority."
"I don't know, Wesley", Ariyah stammered, "Just listen to yourself. Every answer you've given me sounds programmed. You're not thinking clea..."
Wesley stood up out of his chair and approached Ariyah.
"You don't know what Walter is capable of", Wesley retorted, "You haven't seen what I've seen, and if you're lucky, you'll never have to. I'm thinking clearer than I ever have before, Ariyah. There's something special about this place. You might not feel it. You didn't choose this, so I understand, but believe me when I say that you making it out of this alive is one of THE ONLY things on my mind right now. So before you climb up on your pedestal, check yourself."
Ariyah was silent, tense, and anxious.
"When we split", Wesley continued, "It was the hardest thing I ever had to do. I had no reason to stay, but I wanted to try. Not just us for our boys, but for us. I loved you, but you broke my fucking heart. I know I wasn't the perfect partner, but after what you did? I don't owe you a god damn thing, but some part of me will always care about you. Those boys love you. They'll never know what happened between us, but they still deserve to grow up with their mother."
She sat still as he poured his heart out to her.
"There's nothing keeping you here", Wesley said, "You can always walk out that door, but I don't want to imagine what's going to be waiting for you on the other side...and you for damn sure aren't taking our kids into that unknown."
"This is your fault", she stated.
"You can't blame me for the actions of a psychopath", Wesley replied, "You don't understand now, but if you leave, you're going to wish you didn't."
Wesley started towards the door.
"Where are you going", she asked fearfully.
"I'm going to put our children to bed", Wesley answered, "Take the night off."
As Wesley went to open the door, the knob jiggled from the outside and it blasted open in front of him. Chase Jackson stood in front of him, completely out of breath.
"...it's...there's..." Chase started but was unable to finish.
"Chase, take a breath", Wesley said, "What's going on?"
"Somebody's...here..." Chase managed to get out through two huge breaths.
"Ari..." Wesley said.
"The kids..." Ariyah said as she stood up from her seat and rushed out of the room.
Wesley opened his closet door and moved towards a safe in the corner. He hurriedly thrusted the combination into the buttons of the safe and opened it up. That Mossberg shotgun greeted him as an old friend, almost as if it were saying "I wondered when you'd show up." He pulled it out and made sure it was loaded before meeting Chase in the hallway, Wendigo at his heels. His eyes went wide as Wesley walked towards him with the shotgun in his massive arms.
"Wesley..."
"Stay here with Ari and my kids", Wesley stated, as he put his hand on Chase's shoulder, "Please? Promise me you'll stay here."
"I promise, Wesley", Chase replied without hesitation.
Wesley nodded and went down the hallway. Outside, in the freezing cold, stood Kyle and Dandy. There's eyes went alight at the sight of Wesley as well. His eyes burning with fire and brimstone as he exited the building.
"What's going on?" Wesley asked, "Is it Walter?"
"Some of the recruits were messing around by the tree line", Kemp replied, "They said they could here somebody moving out there. They wanted to investigate, but they decided to come get us instead."
"Nobody told me we could fuckin' pack heat here", Dandy interjected, "All's I got is this fuckin' flashlight, like what the fuck?"
"We don't know anything yet", Wesley answered, "But don't worry, if that animal came for a kill, this will more than suffice."
The trio started to move towards the edge of the compound. As they made their way towards the forest, Wesley's mind began to race. Did he make a mistake damaging the monsters ego like that? Was putting his family's safety at stake
worth it?
He didn't have the answer, but he knew the answer to the question of what would happen if somebody threatened anything he had built here. He knew, without a doubt, that he was ready to defend it all.
Maybe, that was what it was all about. His mind continued to race, and he silently kicked himself for not remaining focused on the task at hand. He couldn't help it though, as he thought of all the mistakes he'd made in life. How damning of an indictment they all seemed in the moment, not realizing that as a human, he was bound to make mistakes. He thought, supposed it wasn't about your fucks up, but how you bounced back from them.
Or better yet, bounced forward.
He was snapped back to reality as Wendigo growled at something in the distance. Wesley grunted slightly and Wendigo ceased. Their bond had grown ever stronger over the last few weeks, and it was yet something else Wesley had found himself proud of. A lot rested in such a small animal. Wendigo wasn't defenseless himself, but if something were to happen to that dog, Wesley would die for it. That was a massive mental leap from where he started at the beginning of this. He looked around at his brothers, who rushed off with him into this battle that wasn't theirs and knew he'd do the same damn thing for them.
Wesley couldn't help but smile. He knew it was a tense moment, but the smile came all the same. As they finally came to the edge of the woods, Wesley held the Mossberg forward. Wendigo tilted his nose into the air and sniffed. He nudged Wesley's leg and moved silently into the distance. The three followed after Wendigo into the woods. Every second felt like an eternity as they trudged into the forest. Every snap of a twig felt monstrous. Every shadow in the distance threatened to jump out and attack them, but they remained stalwart in the face of danger.
Kemp put his hand on Wesley's shoulder and pointed deeper into the woods. Even though the night air beat down on his exposed torso, Wesley stayed stoic as they moved into a clearing. They found themselves at a makeshift camp sight. A small fire was hastily put out, the coals underneath still burning slightly. A lean to was crafted out of a dark tarp. Kemp investigated inside of it as Wesley kept his Mossberg pointed at the woods around them, waiting for the camp sights inhabitant - or inhabitants - to return.
"What the hell?" Kemp whispered from inside the tent.
"Talk to us, Kyle", Dandy whispered in response, "What the fucks going on?"
Kemp exited the tent.
"I think it's safe to say this isn't Walter", Kyle replied in his normal tone of voice, "I don't know what to think of this."
Kemp held a bag in his hands. They started to look through it and inside were a bunch of childish objects. Hot cheetos. Christmas tree cakes. Manga comic books.
"What the fuck is this?" Dandy asked.
"I think you can put that down now, Wesley", Kyle said as he tipped the barrel of the Mossberg down towards the ground.
Wesley grabbed the objects in his hands and shook his head. He could finally feel his body, his heart beating out of his chest, his arms frozen like stone.
"What should we do?" Kyle asked.
Wesley turned the stuff over and finally dropped them back in the bag.
"We find the lost soul these things belongs to", Wesley answered.
"I don't think we gotta look that hard", Dandy replied as some rustling sounded close to them.
As if on cue, through the brush, a figure emerged.

This is what it all comes down to. The final match of the Wrestler of the Year tournament.
"The RevolutiDaddy" Wesley versus Howard Black.
Nobody expected the two of us to make it halfway through this tournament, Howard, let alone be the final two competing for that accolade. I know it doesn't mean jack shit to you, but to me it's everything.
This isn't just about me.
This isn't just about The Following.
This is about the future. This is the message. Every day, you can fight to be better than you were the day before. One year ago, I was barely sniffing the bottom seed of this tournament. Now, I'm headlining.
And after Turmoil? I'll be Wrestler of the Year. Fighting for a better future, a better tomorrow. Who knew the rebirth of innovation would come at my hands?
And after Turmoil, you can go back to being who you were yesterday. A wayward soul, resting on his laurels, angry at the world. You always wondered why you can't take that leap forward? It's because for every step you take, you always take two back. You don't want to be better, you just want to be Howard Black. The fucking Honey Badger. The Lost Boy.
You've gotten as far as you're gonna go, Black. It's as far as you wanted to get. You wanted to prove the haters wrong. Hope they kept their words soft and sweet, because now they're eating them. That's all you've ever wanted.
This tournament doesn't mean the exact same thing to you as it does to me. This is the moment, my galvanizing moment, where people finally look at me and realize that I am EXACTLY who I say I am. This is the match that thrusts me into that upper echelon of competition. No longer will I have to punch up. After Turmoil, I'll be the owner of the house I built. Here in Action Wrestling since DAY ONE!
Don't fret Howard. After it's all said and done, you can't go back on your "End of Days" tour. Sit in that lonesome room of your house of dust. After the dust settles, you can go back to being the good old family man. The man who sacrifices every little thing that makes him happy for the good of his family. You can go back to being a nonentity, the only place in this world you feel comfortable.
The struggle is finally over for you, after Turmoil. Ended at my hand 🖐🏽. You've accomplished everything you need to accomplish, everything you set out to do from the start. Now all that's left for you is to finally ride off into the sunset. Isn't that liberating, Howard? To know it's all finally coming to a close? After that bell rings, the weight should be releasing off your chest, and you can get back to doing what you do best.
Looking forward to the end.
And I'll get to doing what I do best, and that's being the best professional wrestler in the world today. I'll work towards that brighter future everyday.
Follow The Following.
Follow me.
The revolution is here.