Post by Torture on Dec 18, 2021 16:41:57 GMT -5
"
OOOOOOOOOOI!
"
"ACTION
WRASSLIN'
!"
"Just HOW good has the last couple of months been? We've seen the disassembly of Philidor Holdings, the return of the REAL top-shelf sheila in Lissie Hope, the fall then rise of ol' Odi, and the dramatic fuck one hundred and ten percent jaw-dropping Westler of the Year tourney; oh, and what 'bout the Hellscape? Yeah, mate, it's been a pretty fuckin' wild ride on the rollercoaster that's screamin' headlong into twenty twenty-two and I shouldn't have to yell ya that the brakes ain't workin' as y'all hurtle headlong into CruiserClash end of the year shindig so aptly named CruiserHavoc."
"Are you excited?"
"I'm excited!"
"For those that have been livin' under some kinda rock for the last three years, this shindig isn't 'bout stackin' the deck with as many big recognizable names as possible in a vain attempt to draw eyes to the dwindlin' product. Hell Nah! This end of the year rumble is all 'bout bringin' in some of the best talents from 'round the world that could fit into Action Wrestling's weight class of Cruiserweight an' lettin' them strut their stuff alongside the ones that the eagle-eyed Jazzie Mack scouted out before snaggin' for that Action Wrestlin' corporate investment money. To top things off, as if the massive exposure to the Ey-Dub fans weren't enough, the last body standin' in that ring at the end of the night earns the privilege to hold onto that strap an' call themselves Cruiserweight Champion."
"Which is a pretty big deal for a lot of folks enterin' into the event."
"Not me though."
"Nope."
"The Horrorcore Hottie has a different reason for jumpin' headfirst into this flusterclck of a match than earnin' herself another primo strap an' addin' to the list of wrestlin' shows I'm carryin' to the top. Although, an' I ain't ashamed to admit it, gettin' the big dub over all these insanely talented fuck-knuckles to earn' that strap would be hella fine an' wouldn't be somethin' I'd willingly shy away from. Even so, I gotta use this once, maybe twice, a year opportunity to prep for somethin' even bigger than either the CruiserClash tag straps of the Cruiserweight strap; somethin' that no other fighter in this match has evero or will ever get a shot at."
"The SPLAT Multiversal Championship."
"Is it kinda a dick move to blatantly admit that I'm basically lookin' at this as tune-up match instead takin' as seriously as some of the other entrants are? Yes; yes it is. However, it ain't like the Aussie Assault is rollin' into Las Vegas to fuck spiders an' do jack. Not in a million years! See, when I step foot into that ring Wednesday night I'mma do what it is I do best an' leave everyone Thunderstruck; an' yes, that is an Acca Dacca reference. I'm comin' into Vegas hot, heavy, an' ready to drop the BOOM! on any bloody dag dumb enough to step to the one woman outta either Revolution One or Level-up Pro that can take to their Final fuckin' Boss Champion Magglesaur Lockheart."
"That ain't somethin' Wrestler of the Year runner-up little Miss Piggly Wiggly or that perpetually prepubescent drongo with the sunglass fetish can say, not by a LONG fuckin' shot."
"No worries though, since it's the season of givin' I'mma give each of the owners of a broken jaw; as broken by me; a little Chrissie pressie that'll simply leave ya jumpin' for joy once ya wake up in that hospital bed a couple of days later!"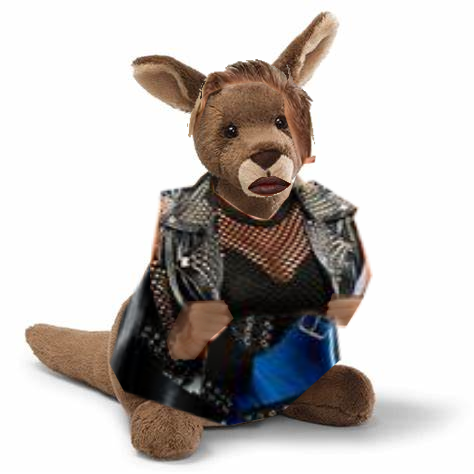 "With formalities outta the way the only thing to say is....."
"
Let's
......"
"
Fuckin'
......."
"
GOOOOOOOOOOOOOOOOOOOO!
"
---
---
"Are ya sure about this, Jess? We've got a good thing goin' on in Revo One with Khaos and Cerise, there isn't a need for ya to risk somethin' happening before the big fight with Kitty Dork."
With an exasperated huff and a comical eye roll, she responded to the Revo One champion that sat across from her.
"Relax Jinnie, we both know they can't anythin' worse than what I've already been through. Electrified cages, multi-man first blood matches, glass table deathmatches, an' cages of death; remember?"
"Yeah, but......"
"Relax, my dude, it'll be easy street."
"Riiiiiight"